HOW TO ACT, THINK
& MAKE MONEY THE WAY
THE WEALTHY DO.
Take The Financial Gap Analysis™ To Discover Your #1
Wealth Trap (And How to Fix It)
TAKE THE QUIZ






By not taking risks, by not living our full potential, we risk it all! Say YES! now then figure out how. Loral's philosophy is shared with you through her formula for channeling the right energy at the right time to reach the right directions.
What's Integrated Wealth Systems All About?
---
We're committed to showing you how to build multi-million-dollar wealth, how to invest your money through alternative investments, and how to pay less taxes so you keep as much of your money as possible. We're changing the conversation about wealth management from the outdated industrial talk to an open and honest entrepreneurial and investing conversation to help you:
WATCH VIDEO
What Makes Integrated Wealth Systems So Different?
---
There's no shortage of money gurus and how to get rich programs out there. But here's what sets Integrated Wealth Systems apart from everyone else:
1. Expand Your Means:
While most financial "experts" tell you to live below your means, we show you how to invest money and build wealth so you can expand your means. The problem with other financial education programs is they tell you to do the right thing at the wrong time. For example, pay off all your debt before you start building wealth. This type of restrictive money management makes you think and live small! We show you a better way. The way of the wealthy. We show you how to increase your income so it surpasses and eliminates your debt. Expand your means. Expand your mindset. Live full. Don't settle!
2. Off Wall Street Assets:
Every wealthy person knows alternative investments are one of the fastest ways to build wealth. It's 180º opposite of the "park-n-pray" strategy most use. We show you how to find deals that generate 10, 20 and 30 percent returns — and how to do your due diligence so you can feel confident investing in these type of deals. Loral and other Big Table members actively invest in alternative investments such as real estate, cannabis, gas & oil, storage units, cryptocurrency and more. They openly share their investment strategies and results with the community so these deals serve as real life case studies everyone learns from!
3. Integrated Wealth Team:
How many times have you gotten conflicting financial advice from professionals? Your advisor tells you one thing, your CPA another. Then you wonder, does my financial advisor know what my lawyer is doing? Does my insurance broker need to be updated by my CPA? When these relationships are not in harmony it slows down, and often interrupts, your wealth building process.
This is why we take a team approach to wealth management. You get "access" to a team of vetted financial professionals who are all on the same page regarding your wealth. For example, our CPA will do a free audit of your last 3 years of taxes to show you where the "leaks" are in your wealth bucket. If you discover you need to setup a new entity you'll talk to our entity expert. Want to learn how to invest the thousands of dollars you just saved in taxes into off wall street assets? We'll teach you how!
THINGS LIKE:

How to Think, Plan and Grow
as an Entrepreneur

How to Assess (and Invest!)
in Alternative Assets

How to Create a Business System
to Fund Your Investments

How to Establish and Accelerate
a Wealth Cycle that Builds
Generational Wealth
Our Flagship
Wealth-Building Programs
---
DISCLAIMER: People who go through our mentoring programs let us know they didn't realize how much their life would change. Many tell us that saying yes to one of these programs was saying yes to a whole new lifestyle!
VIEW ALL PROGRAMS
About
Loral Langemeier
The Millionaire Mentor
---
Loral Langemeier is a world-renowned money expert, sought-after speaker, entrepreneurial thought leader, and five-time New York Times best-selling author, who is on a relentless mission to change the conversation about money and empower people around the world to become millionaires.
The CEO and Founder of Integrated Wealth Systems – a multinational organization — Loral shares her best advice without hesitation or apology. What sets her apart from other wealth experts is her innate ability to hone in on the skills and talents of everyday people to inspire them to generate wealth. She has created, nurtured, and perfected a 3-5 year strategy to make millions for the "Average Jill and Joe."
To date, the company has created thousands of millionaires through her mastermind group, wealth-building seminars, live workshops, mentoring programs and wide array of products. Luminaries including Bob Proctor, John Gray, Jay Conrad Levinson, and Michael Gerber are powerful champions of her work. T. Harv Ecker says,
"Loral Langemeier's investment strategies make millionaires – and the best thing is that anyone can use them."
Loral's straight talk electrifies audiences and inspires powerful action from live stages and television programs ranging from CNN, CNBC, The Street TV, Fox News Channel, Fox Business Channel-America's Nightly Scoreboard, The Dr. Phil Show and The View. She is a regular guest-host on The Circle in Australia and has been featured in articles in USA Today, The Wall Street Journal, The New York Times, Forbes Magazine and was the breakout star in the film The Secret.
With unquestionable candor, she is quick to speak truth that leaves no doubt about her point of view.
DISCOVER MORE
Success Stories
---





Most Recent Articles
---
ALL POSTS
ABOUT LORAL
BUSINESS IDEAS
ENTREPRENEURS
VIEW MORE POSTS
New York Times Bestsellers
---
The Millionaire
Maker Book
There are only two things millionaires have that you don't: wealth and the knowledge to build wealth. But that's
all about to change. Thanks to "Millionaire Maker" Loral Langemeier, you can develop the same financial intelligence that millionaires use to create, grow, and sustain their

VIEW ALL PRODUCTS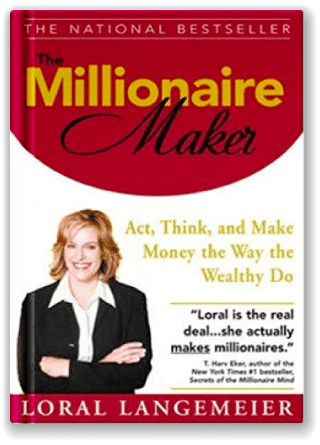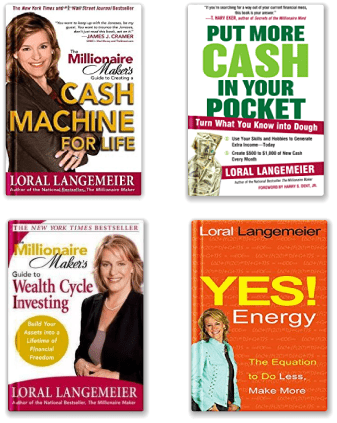 Upcoming Events
---
Big Table Sessions
Big Table Session 1 "Foundation"
November 4-5, 2019
Big Table Foundation Session 1: Building & Accelerating Your Business & Wealth Foundation.

Integrated Wealth Systems is a member of www.grandsierraresort.com Corporate Crystal Class program.

To make reservations, call the Crystal Class line at 888-877-8944 (locally at 775-789-2258), or e-mail CrystalClass@grandsierraresort.com (will need a credit card to hold the reservation). Just tell the agent you are with Integrated Wealth Systems and want to book the Crystal Class rate (minimum of 20% off current rack rates). "
Reno, NV
FREE Event
Legacy Building Workshop
November 06, 2019
This is a one-day workshop hosted by Integrated Wealth Systems, a company dedicated to the common goal of growing a legacy of wealth by making, investing and keeping your money, and their hand picked team of experts.
Reno/Sparks Chamber of Commerce - 449 South Virginia Street # 300 Reno, NV 89501
OWSA Page
Off Wall Street Assets – Phoenix, AZ
November 13-15, 2019
Registration is Wednesday @ 4:30 PM / Show is 5:30PM - 9 PM / 9 AM - 6 PM Thursday & Friday
Phoenix, AZ
VIEW ALL EVENTS