Ask Loral
Integrated Wealth Systems is committed to bringing you the factual knowledge you need and deserve.

Register and get Put More Cash in Your Pocket. We value your privacy and your inbox, we won't share your personal information or spam your inbox.
Ask Loral [Market Awareness]

No Pitching, Just Answers & Content
Join weekly broadcasts at 12:00pm (noon) PST  every Tuesdays as Loral Langemeier and expert guests answer your questions and bring you the facts and knowledge you need & deserve.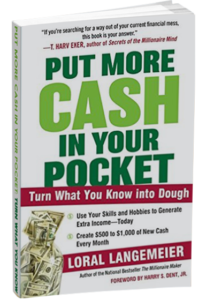 Bonus: Put More Cash In Your Pocket eBook
All registrants will get immediate access to a digital copy of Loral Langemeier's New York Times Bestselling Book - Put More Cash In Your Pocket - Turn What You Know Into Dough
We will be answering your questions live including:
What to do with your money?
What actions should I take in my small business
What if you just got laid off or lost your job?
How to plan for the aftermath financially?
How to make money in an uncertain economy?
Real Estate questions and more...
Testimonials From Attendees & Members
IMPORTANT: Spaces are VERY LIMITED - please ensure you reserve your spot today to avoid missing this opportunity.
Products and Programs fulfilled by Live Out Loud®