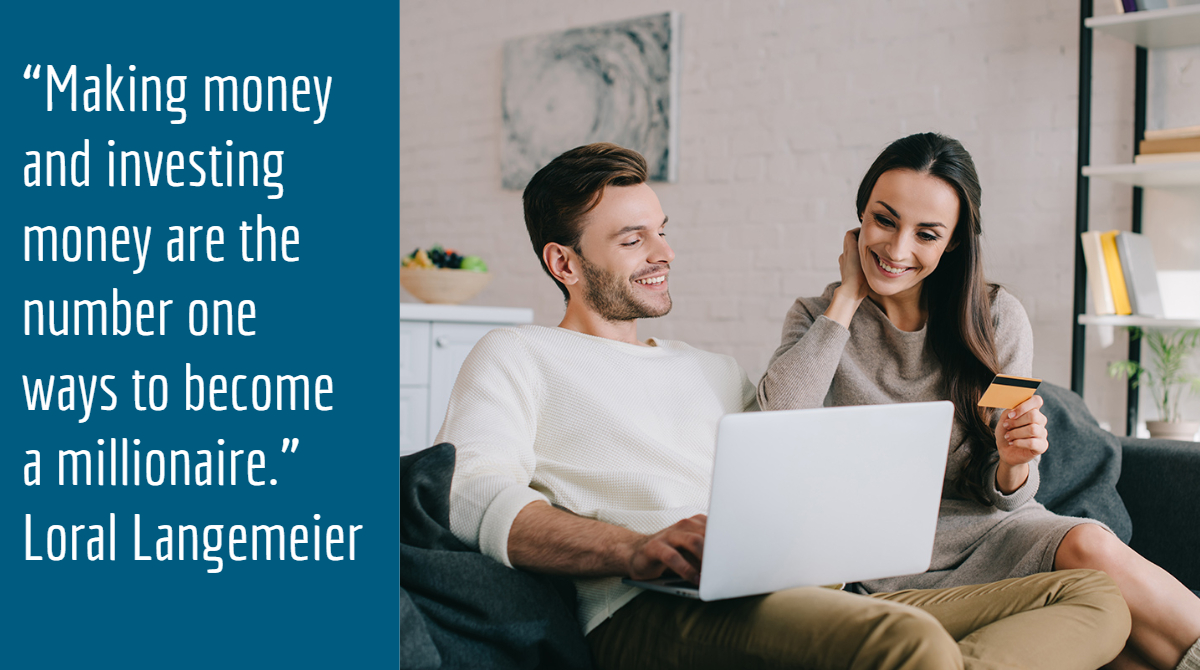 Don't believe everything that you're told. The money behaviors you're taught and how the wealthy behave are often at odds. The truth is, most people aren't millionaires because they don't think like millionaires.
A bad money mindset can hold you back from seven-figure wealth and put you on the fast track to the status quo. You need to throw out the rule book if you want to have a million dollar year.
We recently wrote about the importance of setting a financial strategy and the steps you can take to behave like the wealthy. 2019 is such a landmark year for wealth building that we decided to craft yet another article to help guide you on your financial journey.
The chances of becoming a millionaire has never been higher and with the right guidance, you too can unlock unlimited financial potential. Here are some critical money making steps for a transformative year.
1. Limit Your Focus
Becoming a millionaire isn't just about changing your relationship with money. It's also about transforming the areas of your life that need improvement. Your career, health, spirituality, family and physical environment all have a big impact on your overall financial picture.
It's easy to get overwhelmed when trying to overhaul your life. Rather than looking at all the areas of your life that need to change, pick a few to focus on and invest your time there. By taking a more incremental approach to wealth building, you can discover the steps you need to take to reach your destination.
Identify things to start, stop and continue for the areas of your life that need improvement. Ask yourself what do you need to start and stop doing to level up your wealth. For instance, maybe your network or your mindset are holding you back from seven figure revenue. Maybe you need to diversify your portfolio with emerging investments like cannabis and cryptocurrency.
How can you decide what's best for you? Your first step is to jump on a Gap Analysis strategy session with a wealth-building expert from our team. This conversation will help you understand your money behaviors build a plan to reach your financial goals. This extra guidance will help you take the reigns of your financial future.
2. Make A, B and C Goals
You can't get to where you need to be if you don't know where you're going. So it's crucial that you set goals before you dive in to your financial transformation.
Setting goals is the easy part. Actually reaching your goals? That's much more difficult. To set yourself up for your success, you can divide your goals into different subsets: your A, B and C goals.
Your A goals are the goals that will put you on the path to financial freedom. These are non-negotiable goals that you're absolutely committed to conquering. Whether it's reaching a specific income level, hitting an investment target, or nailing a tax reduction, these goals are paramount to your financial success.
Once you've hit your A goals, you can move on to your next categories: B and C. These goals may not be as essential, but they can remove barriers on the road to wealth building. Hitting these goals is just the icing on the cake.
3. Live Out Loud
Making money and investing money are the number one ways to become a millionaire. Too frequently people miss out on million dollar investments because of their limiting beliefs. You can't focus on reducing debt or stashing away your extra income like hidden treasure.
Making money and investing money are the number one ways to become a millionaire. To make money, you have to spend money. You have to be committed to not only make more income, but to build your assets if you want to truly change your life.
One tip? Tell people about your goals. The more you live out loud, the more the people around you will hold you accountable to reaching your goals. Writing your goals down and telling them to your peers will exponentially improve your chances of getting results. Living out loud is about playing the game and letting others know that you're serious about making changes.
Don't let your money mindset hold you back from where you want to be. You can make 2019 your best financial year yet by refocusing your efforts on the right financial behavior. By setting the correct goals, reframing your mindset and thinking like the wealthy, you can create the financial freedom you deserve.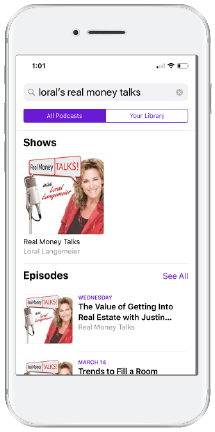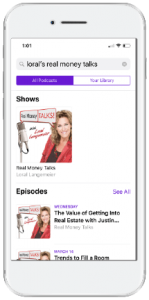 Listen to the Podcast on Your Phone
Do you wonder whether you're using all the tax, entity and wealth strategies available to you and if your investments are truly producing all they could be? Get in on the only conversation about money you need to be having with Real Money Talks.
Step 1.
Search for "Loral's Real Money Talks" in your preferred podcast app or platform
Step 2.
Hit the "Subscribe" button